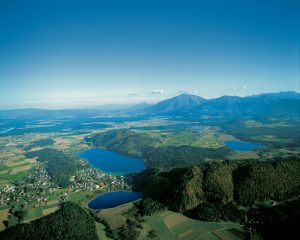 "Seevilla Dr. Sturm" is situated less then 50 meters from the shores of the Klopeiner See.
Not only are the Klopeiner See's waters of drinking quality, it's also one of the warmest lakes in Austria. In the height of summer, it has been known to get up to 30 degrees Celsius.
<span">While there is plenty to experience on the nearby promenade, the villa itself is quietly located, so that you can enjoy the soundtrack of mother nature.
And not just the soundtrack, from our gardens you will spot all kinds of life. From the numerous birds up high, to the squirrels down low, there is always something to see.
There is a large selection of restaurants all around the Klopeiner See, ensuring that you have plenty of choice when it's time to decide what to have for dinner.
For a change of view, there are several places that will rent you pedalos, rowboats, surf and paddle boards However, to preserve the high quality of the water and the safety of swimmers, only the lifeguard is permitted to use engine powered vehicles on the lake.
The Klopeiner See sports at least 15 different species of fish, though with an eye on safety, fishing is not allowed while there are swimmers in the water. But there are several lakes nearby where this is possible, and in the river Vellach, a 20 min drive away, there is the possibility to fly fish.
There is plenty of parking space for cars, motorcycles and bicycles behind the villa.
While we do allow dogs, we advise against it, because they are not allowed on the fields surrounding the lake. Nor are they welcome in most restaurants. If you do decide to bring your four-legged friend, we ask you to keep him leashed on the sun pasture, and to keep him from the breakfast table.
Of course, we have baby cribs and high chairs available for our younger guests upon request.