The "Seevilla Dr. Sturm" is located on the lakeside promenade of Lake Klopein and is located near the town center. In the vicinity of the "Seevilla Dr. Sturm" you will find not only several beaches, but a lot of activities and events for all ages.
Klopeiner See
The Klopeiner See lies 446 meters above sea level and covers an area of ​​110.6 hectares. The deepest point is 48 meters and the average depth is about 23 meters.
The Klopeiner See has drinking water quality and is one of the warmest lakes in Austria. In summer, the water has an average temperature of 28 ° C to 8 meters depth. Only a few rivers flow into Lake Klopein. On the west side the water flows into the Drava.
There are more than 15 species of fish in the lake, as well as various aquatic birds such as ducks, grebes and swans.
For water sports enthusiasts, there are surfboards, pedal boats, canoes, rowing boats. Stand up paddling is also very popular here

Shopping
The "Seevilla Dr. Sturm "is located in the district Seelach the municipality of St. Kanzian on Lake Klopeiner See. Here you will find various shops and facilities such as a bank including ATM, pharmacy, tobacconist, souvenir shops, clothes shops, many restaurants and cafes and the like. Also supermarkets, such as Billa, Spar and Penny are in St. Kanzian. Other shops such as the warehouse are in Eberndorf.

Farmers market at Klopeiner See
Approximately 300 meters from the Seevilla there is a farmer's market every Tuesday and Friday from 17.00, where farmers from the area offer their products.

Bike and motorcycle tours
Did you come without a bike and would you like to go on a bike ride? No problem. In Seelach there is "Bike4you". There is a large selection of bicycles waiting for you. Every cyclist will find his bike here, which he / she can borrow.
Information: www.facebook.com/bike4youklopeinersee.at
In the surroundings of Klopeiner See – South Carinthia there is a cycle track network of about 1,000 km. The car-free theme bike trail with 273 km in length is part of it. The Flow Country Trail on Mount Petzen is 11 km long and is the longest flow trail in Europe.
Information: www.petzen.net/flow-country-trail-weltweit-laengster-trail
The guided bike tour through the mine of the Petzen is also an experience.
Information: www.stollenbiken.at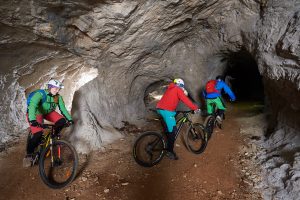 For our bikers: Carinthia offers beautiful motorcycle tours. The information center in St. Kanzian will provide you with more information and maps.
Information: info@klopein.at
And do not forget: In September, the annual Harley-Davidson meeting takes place at Faaker See. Like every year, we are looking forward to seeing you at Seevilla Dr. med. Storm on our Harley guests.
Information: www.kurvenkoenig.de/motorrad/kaernten

Hike
There are over 800 km of hiking trails from Diex to the Geopark Karawanken in the south.
The highest mountain – Hochobir – the Karawanken (mountain range, which is the natural border with Slovenia) on the Austrian side is 2,141 meters high and offers several different trails.
Also on the Petzen there are many opportunities for hiking and climbing.
More information in the Info-Center St. Kanzian: info@klopein.at

Bungee jumping from the Jauntalbrücke
The Jauntalbrücke is 96 meters high and the brave can fall from this bridge into the open air and that already from the age of 8 years.
Information: www.bungy.at/jauntal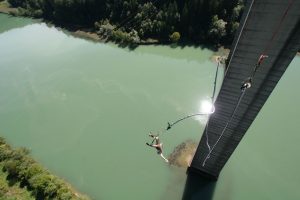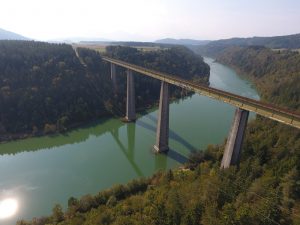 Kajak
From the Tourist Office on Lake Klopein in St. Kanzian you drive in minibuses to the tunnel (about 35 minutes), then get into a real mine train and drive through the 3.5 km long tunnel. A staircase then leads down (95 meters) to the water. Here you get the necessary protective equipment (neoprene shoes, life jackets and protective helmets with headlamp). Now the exciting kayaking starts with an experienced leader..
Information: www.stollenbiken.at
Walderlebniswelt Klopeiner See
The forest adventure world ranges from 'underground' to the treetops and everything in between. Here, little adventurers can let off steam on 20,000 m².
Information: www.walderlebniswelt.at

Drauschifffahrt Süd Kärnten
The MS Magdalena will take you across the Völkermarkter reservoir from Tainach to Völkermarkt and back again.
Information: www.drauschifffahrt.at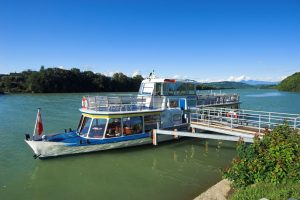 Caves
Information: www.hoelen.at

Slow train
Do not feel like going for a walk and yet want to discover the area? There is the slow train. He guides you through the villages on several routes.
Information: www.bummelzug-klopeinersee.at

Petzen (Mountain)
The Petzen gondola takes you to 1,708 meters altitude. Here you can enjoy the enchanting view. Activities such as paragliding in tandem flight, mountain biking, hiking, climbing, etc. are all possible on the Petzen.
Information: www.petzen.net

Wildensteiner waterfall
In the municipality of Galicia is the Wildensteiner waterfall. From a vertical rock wall, the water falls 54 meters down.
Information: www.kaernten.at/sehenswertes/naturerlebnisse/wildensteiner-wasserfall.at

Birdpark Turnersee
Information: www.vogelpark.at

Nature reserve Sablatnigmoor
1,700 animal species, 170 species of birds and more than 300 plant species can be found in this 104-hectare area.

Observatory St. Kanzian
This observatory is the oldest private observatory in Carinthia.
Information: www.klopeinersee.at/entdecken/ausflugsziele/sternwarte-st-kanzian
Werner Berg Museum in Bleiburg
This museum has been around since 1968 and has opened its doors year round. Here you can admire the work of Werner Berg. At exhibitions, works by other artists will be presented alongside Werner Berg. The pictures are exhibited in the garden of the museum.
Information: www.wernerberg.museum/de/home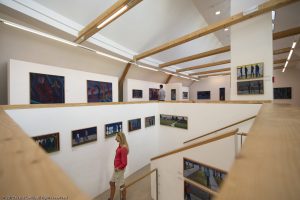 Events 2018
"See in Flammen" – Austria's most spectacular lake firing factory with its extensive entertainment program fascinates thousands of spectators each year. Date: 06.07.2018
Information: www.info@klopeinersee.at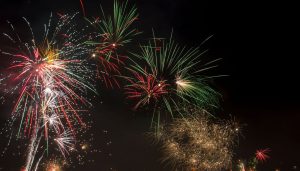 Every Monday and Thursday from 7.30 pm Waldfest with live music. Grinzinger grape arbor, Steinerberg.
Every Tuesday, Thursday and Friday from 05.07.2018 to 17.08.2018 in Stift Eberndorf Südkärntner Sommerspiele: A Midsummer Night's Dream. Comedy by William Shakespeare.
Information: www.sommerspiele-eberndorf.at
Every Wednesday from 06.06.2018 to 19.09.2018 from 20.00 clock. Fairytale hour with torchlight hike and campfire. Turnersee, Hotel am See, St. Kanzian.
On 27.06.2018 from 18.00 clock. Street music, north bank promenade Seelach.
From 02.07.2018 to 09.07.2018 from 10.00 clock. Elvis week at Lake Klopein. Culture House K3, St. Kanzian.
On 14.8.2018 from 19.00 clock. Lake Lights Festival around Lake Klopeiner See.
On 15.08.2018 from 09.00 clock. Farant Street Festival, Globasnitz.
06.09.2018 from 18.00 clock. Pleasure Lake Festival around Lake Klopeiner See.
23.09.2018 from 09.30 clock. Sittersdorf Wine Festival, Sittersdorf.